Seva is giving one's time, money, or commitment for the welfare, support, or improvement of other than oneself and without seeking financial, material, or egoistic reward.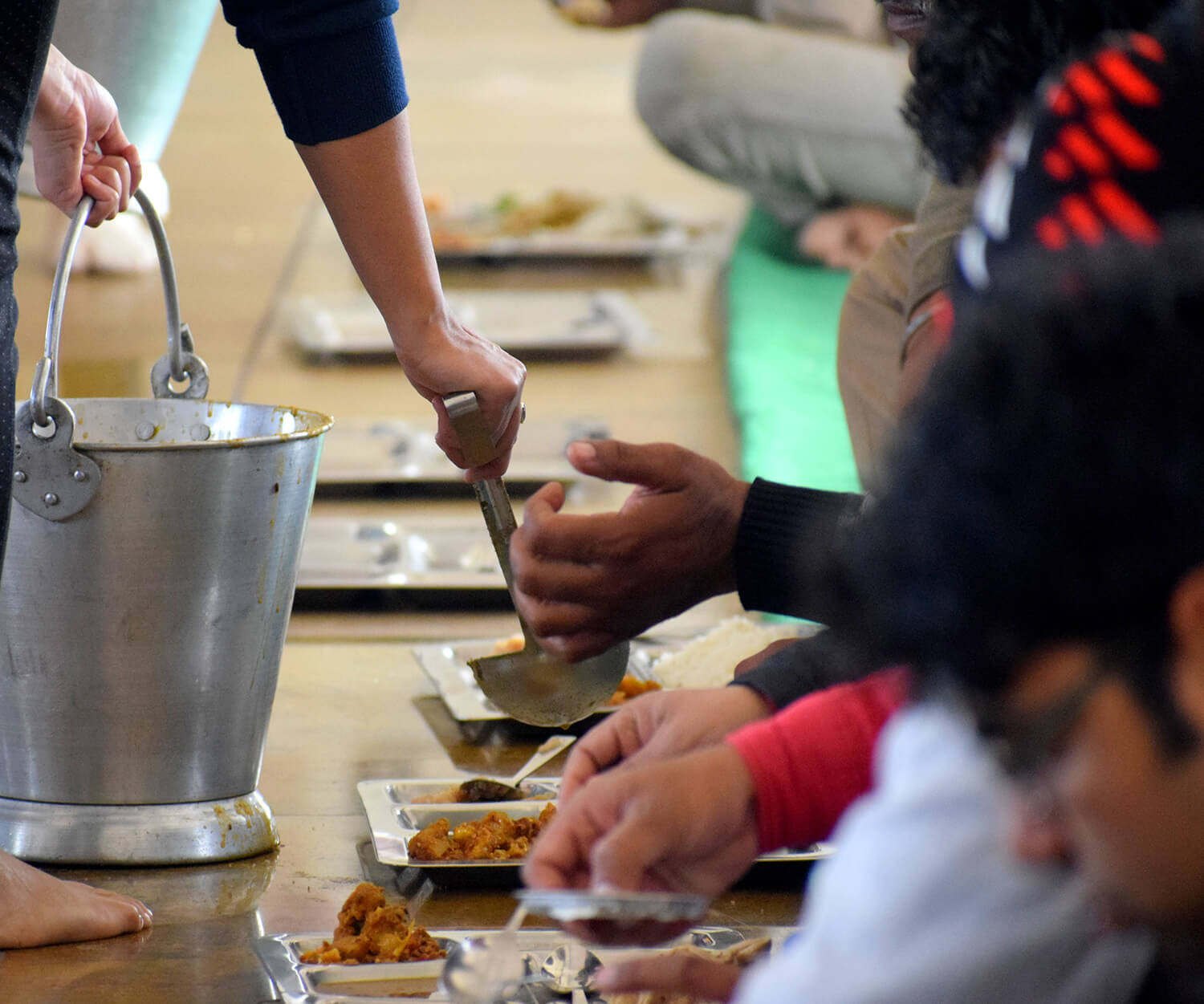 Seva can be in many forms, such as voluntary service in a Gurdwara, in a charity, working with the homeless, in disaster situations, raising money, or even assisting with administration.
The concept of SEVA among Sikhs is best witnessed in the free langar (free food) in Gurdwaras. In most Gurdwaras, people sit on matted floors to eat. Anyone and everyone are welcome. The food is served regardless of one's status, financial circumstances, background, etc. The rich and the poorest sit together to eat.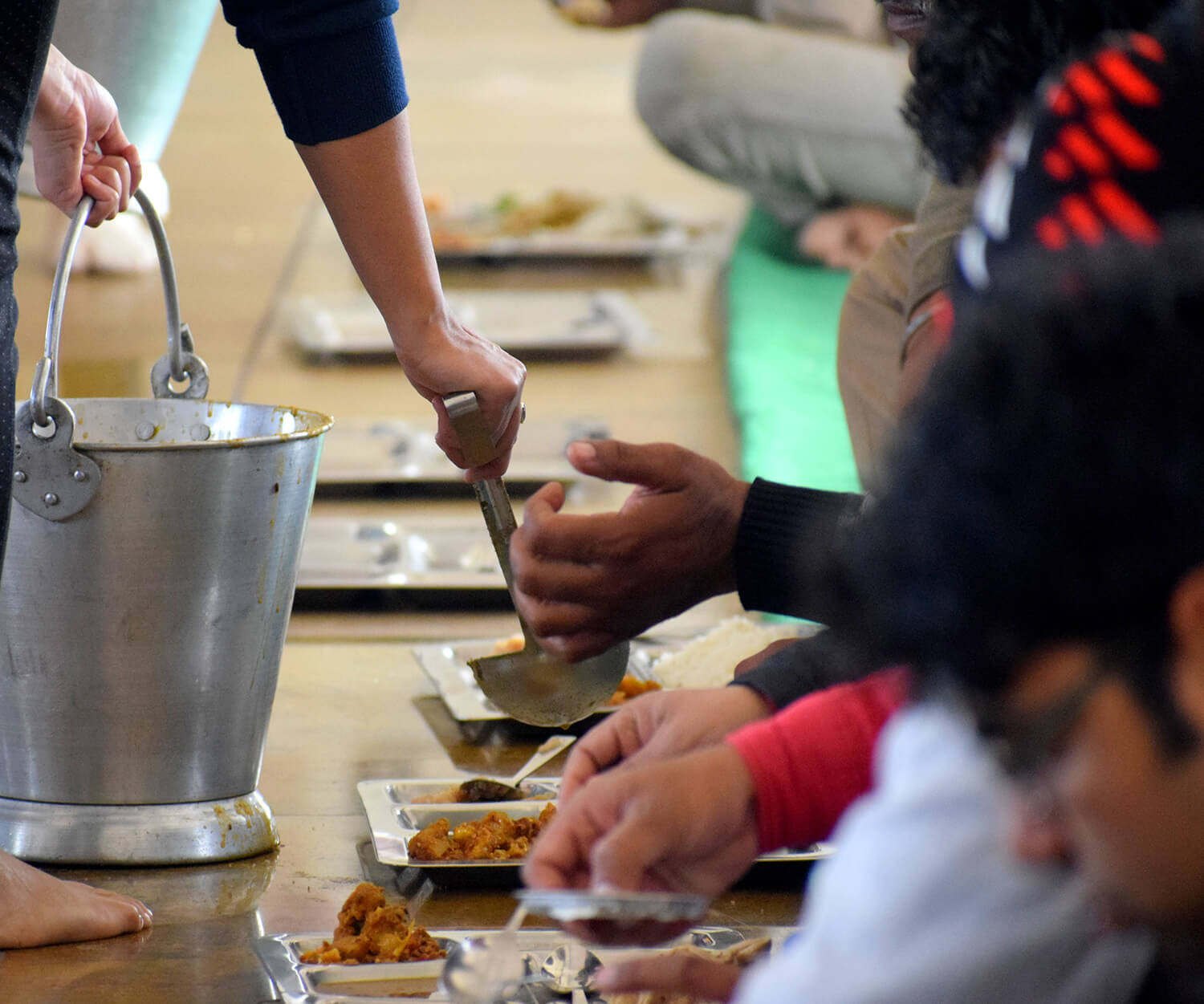 In Langar, the power relationship that forms part of 'Aid' or 'Charity' between donor and recipient does not exist. Those who donate give money or ingredients to the Gurdwara. Those who eat consider it from the Guru and not any human. Hence no one feels humiliated or a 'charity' case or a recipient in need. This is the spirit of Seva among Sikhs, which is never to make the recipient feel humiliated as a person in need. The power relation between a donor and recipient is non-existent. It is considered a service. The only entity giving is the Guru. The Guru in the Sikhs is the Guru Granth Sahib, the textual guide of the Sikhs.
Volunteers who prepare and serve langar and clean up after that are called sevadars.
Langar as Seva is part of almost all Gurdwaras. In the UK, large Gurdwaras serve up to 10000 people a day. In Sri Darbar Sahib (Golden Temple) about 100000 people are served a day. The majority are non-Sikhs.
Seva can be in many forms. It can be working to preserve the environment, to help people with considerable disabilities, to help with the administration of voluntary organisations, to help in disaster emergencies, etc. It can also be in form of financial donations.
Sikh Human Rights Group has a number of volunteers doing 'Seva' in one or another form. There are also some large institutions engaged in Seva who part of the affiliated family of SHRG is. One of the notable ones is the Nishan-e-Sikhi project at Khadur Sahib, Punjab, India. The plant tree saplings do environmental work, run Gurdwaras in which langar is from organic ingredients, also arrange langar in community situations, such as the large Farm protest that took place in India. They also run schools where children from poor backgrounds are taught free.
SHRG encourages 'seva' as an enriching part of one's life and is always welcoming organisations to become affiliates if they follow the principle of selfless volunteering as a major part of their activity.
Sign up for email updates.
Receive the latest news about SHRG's campaigns, new publications, and ways to support what we do.

Neurodiversity Speaker Series: Ms Dianne Malley (Drexel University – USA)
05th Nov 2023
UNHRC 54 – Item 8: General Debate on the follow-up to and implementation of the Vienna Declaration and Programme of Action
10th Oct 2023
UNHRC 54 – Item 9: Enhanced interactive dialogue with the High Commissioner and the International Independent Expert Mechanism to Advance Racial Justice and Equality in Law Enforcement
10th Oct 2023